Louisiana Road Map
---
The scalable Louisiana map on this page shows the state's major roads and highways as well as its counties and cities, including Baton Rouge, Louisiana's state capital and most populous city.
Interstate Highway 10 Junction Near New Orleans, Louisiana
Louisiana Map Navigation
To display the map in full-screen mode, click or touch the full screen button. To zoom in on the Louisiana state road map, click or touch the plus (+) button; to zoom out, click or touch the minus (-) button. To scroll or pan the zoomed-in map, either (1) use the scroll bars or (2) simply swipe or drag the map in any direction. (The scrolling or panning method you use will depend on your device and browser capabilities.) At any time, you can display the entire Louisiana road map in a new window or print this page, including the visible portion of the map.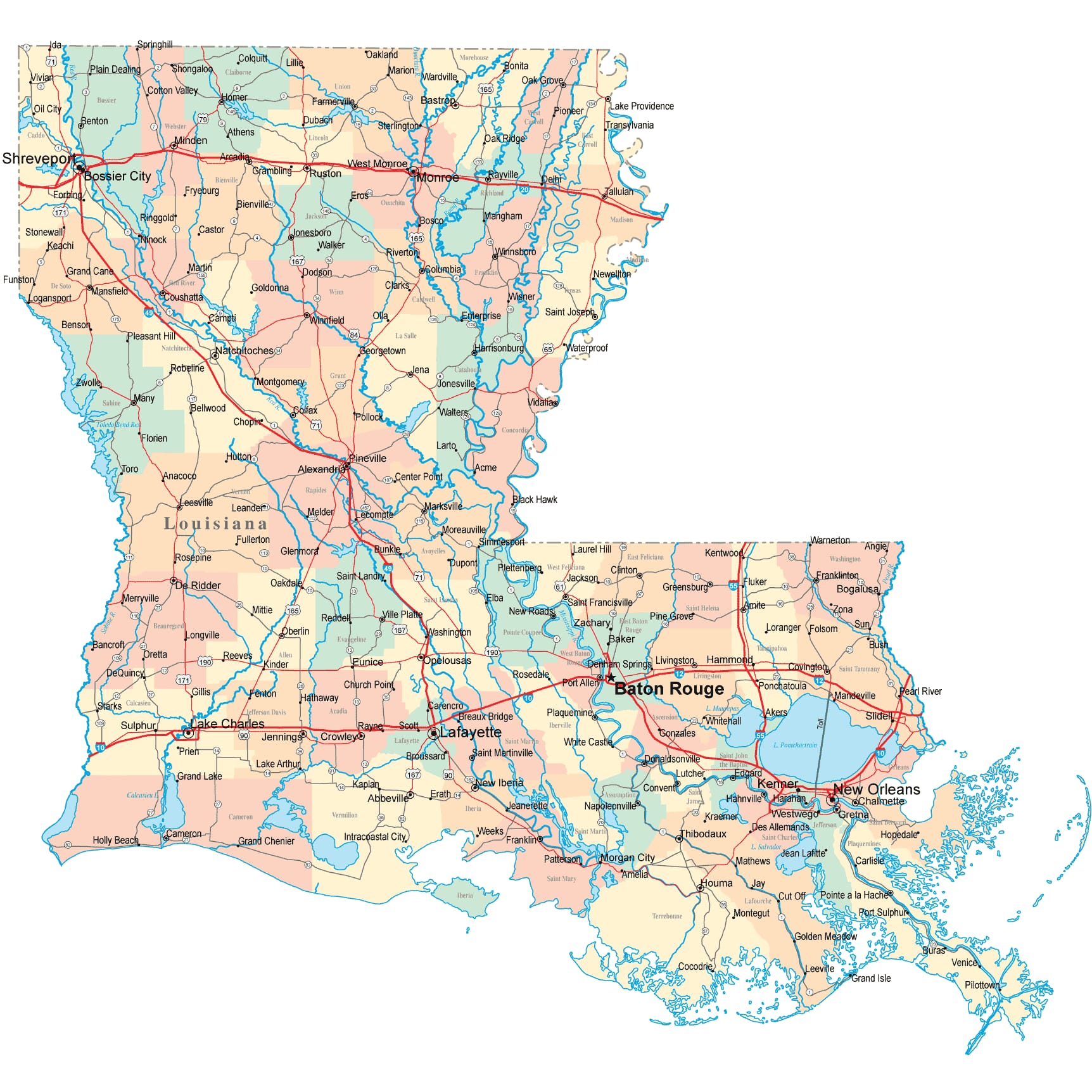 The following Map Legend and Scale of Miles apply to the road map on this page, at its largest displayed scale.
Louisiana Map Legend
Louisiana Map Scale Of Miles
Louisiana Interstate Highways
Louisiana's primary Interstate Highways connect its major cities and facilitate travel between Louisiana and its neighbors. I-10 traverses southern Louisiana from east to west, whereas I-20 crosses northern Louisiana from east to west. I-12 provides a fairly direct route between Baton Rouge southern Mississippi, while I-49 traverses central Louisiana between I-10 and I-20.
Louisiana's auxiliary Interstate Highways serve urban areas such Baton Rouge, Lake Charles, New Orleans, and Shreveport. I-110 connects I-10 with downtown Baton Rouge and the Baton Rouge Metropolitan Airport. I-210 loops through Lake Charles, connecting with I-10 at its eastern and western termini. I-220 loops through northern Shreveport, connecting with I-20 at its eastern and western extremities. I-310, I-510, and I-610 provide convenient access to neighborhoods in the New Orleans metropolitan area.
Louisiana Scenic Routes
A 210-mile drive from New Orleans to Lafayette offers an opportunity to see a bit of what makes Louisiana unique. South of New Orleans, the Jean Lafitte National Historic Park and Preserve offers ranger-guided float trips down the Mississippi River, while Jefferson Island showcases oak-lined boulevards and more than 1,000 species of flowering plants at Live Oak Gardens. Travelers will enjoy regional cuisine in the town of Breaux Bridge, which prides itself in being the Crawfish Capital of the World. West of Breaux Bridge lies the town of Lafayette, where visitors can enjoy Cajun music and dancing until the wee hours. More information about scenic roads in Louisiana is available on this America's Byways: Louisiana page.
Louisiana Road Travel Resources
For more information about Louisiana's roads and transportation infrastructure, visit the Louisiana Department of Transportation & Development website. For Louisiana road traffic conditions, visit the Federal Highway Administration's Louisiana Traffic Information page.
---
Copyright © 2005-2023 State-Maps.org. All rights reserved.
Louisiana-Map.org is a State Maps reference source.

Louisiana Road Map
Louisiana Travel Map - LA Highway Map